Buying or selling a practice is one of the most significant financial events in a dentist's career – with only one chance to get it right.
Our Most Recent Sale – February 2018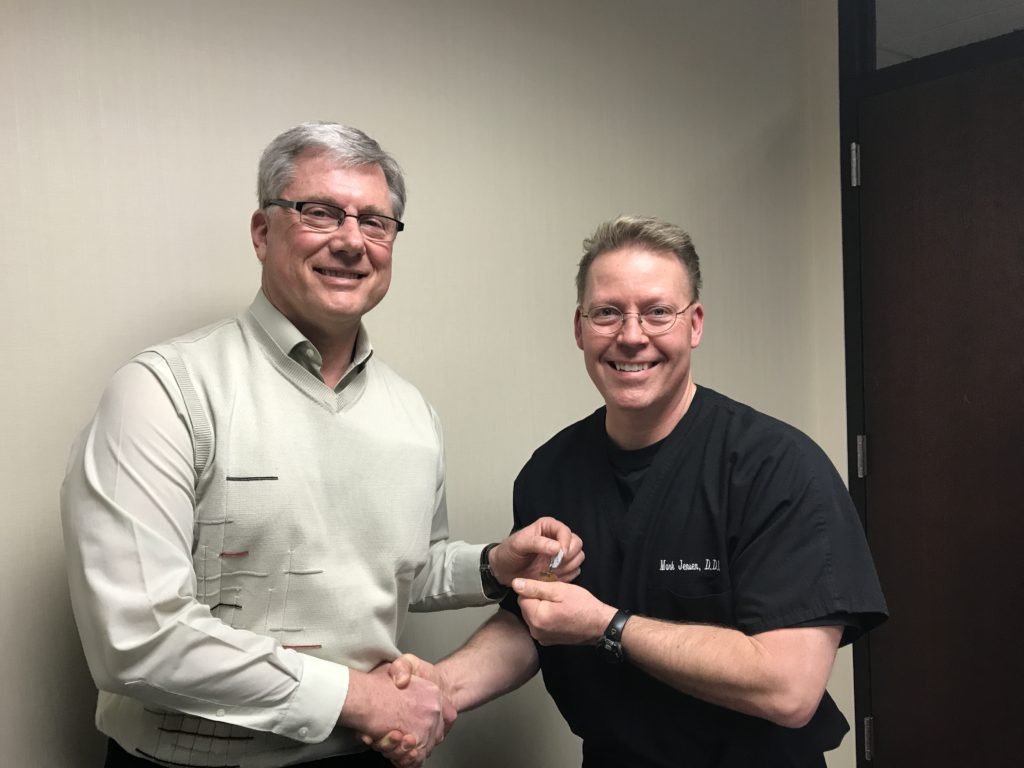 We were pleased to represent Dr. Michael Meilink on the sale of his practice to Dr. Mark Jensen.
Act Now to See These Our Most Recent Practices for Sale!
Northwest Missouri – Kansas City Area – Highly profitable specialty practice in a great location! Please review MO362.
Central Missouri – Specialty Practice – A four-operatory practice, with great quality of life! Please take a look at MO361.
Eastern Kansas City Metro: Five-operatory general practice located 30 minutes from Kauffman Stadium.  Please see MO 359 for additional information.
Central Missouri: Small town charm with above average profit margins. Please see CODE MO358.    
On the Guest Lecture Tour – Dr. Steve Wolff in Lincoln
On a snowy early February day, Dr. Wolff headed to Lincoln, Nebraska, to address a D-3 Practice Management class. (He arrived equipped with donuts, and was well received.)
Merge Right … – A blog post by Dr. Wolff
We have recently had conversations with a rather large number of doctors whose practices are probably too small to be transitioned to a new owner-operator. While the majority of this text is taken from an article I wrote in 2015 for Dental Economics, there are a few new twists that make revisiting this topic worthwhile.
As more and more practices established in the 70's and early 80's come on the market, it seems likely that a good number of them will need to be merged into existing practices in order for the retirees to perpetuate care of their patients and maintain a chain of custody of patient records. With enrollment to local dental schools in our market more than a third less than previous levels, a significant number of retirement age doctors will not find buyers for their practices if revenues are less than $400,000.00. Positioning their practices for a merger into another may prove to be the best exit strategies. Certain factors contributing to the marketability and successful transition of these practices seem to bubble to the top.
Retaining one or more key staff people: It is no secret that many patients will have more connection with the office manager, assistant or hygienist than they do the doctor and having one or more come to the new office has a very powerful effect on patient retention. Besides their familiarity with the patients, a willingness to promote their new boss goes a long way towards acceptance of the changes the new office and doctor may present. Pre-appointed hygiene visits can be "money in the bank" for the new doctor if properly handled.
Geography will matter: Although it will be surprising how far patients will travel to see their long-term doc, common sense suggests that the closer the office is to the old location, the more likely patients will visit the new doctor. Patients of a mature practice might have all initially lived close to the office but over the years may have moved several times and find themselves living a couple of zip codes away. Even though dental care may require only a few trips per year, some patients may be reluctant to drive past numerous other dental practices to get to see the new doctor. We suggest that the Buyer review a Zip Code report as part of their due diligence in order to help predict the number of patients that will eventually make the trip.
Fees and Insurance compatibility: The Buyer needs to closely review fees and make sure they are relatively close to those in their office. If the retiring doctor has not kept current with their fees, the Buyer may find themselves in the role of the Bad Guy when they introduce the patients to the realities of current UCRs. The patient may feel that the new doctor is overcharging and will leave the practice. Ironically, even if they go somewhere else and find out the facts of 2018 life, they will not return to the original practice. By the same token, careful review must be made of the participation in various PPOs. In today's world, if you do not accept the patient's insurance, they will likely go elsewhere.
Letter to patients: Perhaps nothing is more important to a successful merger than the careful construction of the selling doctor's retirement letter. Since there will likely not be any opportunity for the selling doctor to continue seeing patients, the announcement of his plans, the sincere introduction of the new doctor and the advisement to the patients as to the custody of their records will go a long way in "laying the sword upon the shoulder" of the new owner. Patients have trusted the seller for years, often for decades, and will generally trust his instructions to visit the new practice.
Diplomacy: Although the buyer should know the seller's reputation within the dental community, the new doctor will need to be especially careful about being overly judgmental regarding treatment the patient has received under the care of their trusted friend. They should work first to build a relationship with the patient and can then educate the patient about their treatment philosophy and plans. Expect too that the newly acquired patient base may have a disproportionate percentage of older patients and being sensitive to their needs will go a long way towards keeping them in the practice.
When properly executed, a merger may be the fastest and likely least expensive way to expand a practice. The buyer needs to do their homework and be as sure as possible that they are getting what they think they are getting.  Fair pricing of the target practice and good planning will return the buyer's investment many times over. Their only regret will be that they didn't do it earlier.
Steve Wolff – UMKC Class of 1977