Buying or selling a practice is one of the most significant financial events in a dentist's career – with only one chance to get it right.
 Act Now to See These New Practice for Sale Listings!
South central Kansas, Wichita area:

 "Award winning general practice."

Above average revenues and profitability. See CODE KS218.                                                                                                                                             
St. Joseph, Missouri: A great practice, with an excellent location and curb appeal. Look at CODE: MO357 on the Missouri tab.  
Northwest Kansas City Metro:   Located in an historic downtown area close to Kansas City, this practice boasts a long history of service to the community and is ready for new ownership.  Take a look at Kansas City Metro – CODE KS216.
Johnson County – Kansas City Metro: Looking to expand or start? This practice is located in one of our most requested destinations

.

Call now for further details: CODE KC347.
Southwestern Kansas: Here's an amazing opportunity for the right buyer. This office is the regional dental center for a very stable Southwestern Kansas town. Don't wait. Please see Kansas  CODE KS217.
Dr Wolff on the Lecture Circuit. . . . 
On February 8, Dr. Wolff traveled to Lincoln, Nebraska to address classes at the University of Nebraska -Lincoln College of Dentistry.  As a contributing author to Dental Practice Transition, A Practical Guide to Management – a textbook currently in use at the college – Dr Wolff is always warmly received there.
 Practice Sustainability V.2017 – A Blog Post from Dr. Wolff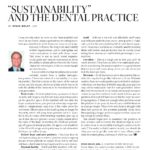 [Note – those of you who are readers of Dental Economics magazine will recognize Dr. Wolff's November, 2013 article from that magazine.  Click here to download a PDF.
A recent series of potential seller conferences has again brought the issue of practice size to the surface. I always feel a little bad that I have to be the one to break the news to them that their life's work may not be marketable to the next generation. I guess too that I am a little disappointed that it is such a shock to them since we have been preaching about this for the last several years. Attached is an article published in the Missouri Dental Associations Focus Magazine in early 2014. If there were any need to update our thoughts on this subject it would be that the floor continues to rise. The continually increasing student loan debt service means that more and more net income will be necessary to make ends meet.
Dr. Steve Wolff – UMKC Class of 1977